Hoof boots are pretty much an indispensable aid in hoof rehabilitation. Hoof boots will support your horses' recovery by keeping them comfortable through the most painful first phase of rehabilitation and as they're improving, hoof boots will encourage movement to help them rebuild a healthy hoof structure.
Whether your horse is suffering from laminitis, navicular, hoof abscesses, thrush, pedal osteitis or under-run heels and thin hoof soles, the right pair of well fitting and well ventilated hoof boots are invaluable to keep your horse as comfortable as possible. If your horse is usually shod and has come out of his shoes to recover from a hoof issue, hoof boots will also be the way to go to protect their feet and help them adjust to the new feeling of touching the ground without shoes.
"Most rehab horses need help to be able to comfortably load their weight on the ground. Perhaps they need extra shock absorbing pads or support to encourage better hoof alignment with wedge pads. Or maybe they need their hooves to be covered and kept clean to heal from infection. Hoof boots can do all of that and more," said India Woods from Valmont Farms.
Rehabilitating under-run heels using Scoot Boots and Scoot wedge pads.
Hoof Boots are Convenient and Effective in Hoof Rehabilitation
India Woods has been using hoof boots for rehabilitation of horse hooves for the past 10 years. She runs Valmont Farms, a renowned equine training and agistment facility in Tasmania, Australia, where she also takes horses in for rehabilitation of various hoof conditions in cooperation with the horse owner, vet and farrier.
"I absolutely recommend using hoof boots for hoof rehabilitation. Even my shoeing farrier endorses me using them because he can see the results. Hoof boots really do minimize the horses' discomfort and that is my primary concern," India said.
Horses in rehabilitation also often need corrective trimming, which means shorter trim intervals like every 2-3 weeks to avoid making drastic changes too quickly. Frequent trims are difficult if the horse is wearing iron shoes, whereas hoof boots are quick and easy to take on and off whenever you need to.
Hoof boots are the perfect aids in rehabilitating your horse from shod to barefoot.
Rehabilitation from Pedal Bone Rotations using Hoof Boots from Scoot Boots
The majority of India's rehabilitation cases are horses who need help to transition out of metal shoes into barefoot. In these cases India always uses hoof boots to keep the horse comfortable in the transitioning phase. Although she also have several cases of horses and ponies with laminitis and pedal bone rotations, such as this little Welsh pony:
"He was suffering so much he couldn't walk and his vet had recommended he be put to sleep. But by getting him out of his shoes and into Scoot Boots, which I modified by cutting the toe off and increasing the break-over, we managed to stop the pedal bone rotation and he was sound enough to be ridden again just 6 months later," India said.
Another rotation case that India has treated was caused by an infection, which was thought to be related to the horse's liver. The horse developed severe hoof abscesses and the vet had to cut back the horses' entire sole to relieve the infection. India then wrapped his feet in nappies that were kept clean and in place with Scoot Boot Skins. As his hoof sole grew back, he continued his recovery wearing ordinary Scoot Boots and has now returned home sound.
Pedal bone rotation, hoof infections and abscesses treated with help from Scoot Skins and Scoot Boots
What to Consider when Choosing Hoof Boots for Rehabilitation
Hoof boots for hoof rehabilitation come in many different varieties and it is important to choose the right ones. First of all they need to fit well in order to make your horse comfortable. But there are other things to consider as well, that are just as important for successful hoof rehabilitation.
Many hoof boots developed for medical rehabilitation purposes are bulky, heavy and fully enclosed. These types of hoof boots are problematic if your horse needs to be booted 24/7, as they offer poor ventilation. Lack of ventilation creates a warm, moist environment around the hooves, which are ideal conditions for thrush and other bacterial infections to thrive in.
Secondly, bulky and fully enclosed medical hoof boots are not designed to fit securely enough to be used as performance hoof boots. As such, they are not suitable to use in the later stages of your horse's recovery where you would want to encourage your horse to move as much as possible.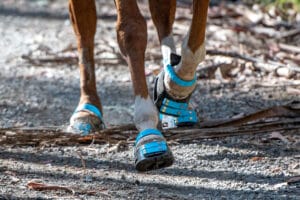 Protective and well ventilated Scoot Boots will aid your horse through all stages of hoof recovery.
The Advantages of Using Scoot Boots for Hoof Rehabilitation
Hoof Boots from Scoot Boots are ideal for hoof rehabilitation purposes as they can be kept on 24/7 due to their superior ventilation and low profile. Further, Scoot Boots are made from lightweight, flexible, shock absorbing material, which encourages your horse to move and land correctly on his heels first.
India from Valmont Farms also emphasizes the unique ability of Scoot Boots to be modified to custom fit special needs in your horse's recovery. To name a few of the many options, Scoot Boots can be stretched to fit different heel heights, cut back to eliminate pressure on the toe of a laminitic horse, or rasped back to improve your horse's break-over point.
"Honestly, I couldn't live without these boots at this stage – and neither could the horses!" India said.
If you are looking at using hoof boots for rehabilitation of your horse, feel free to reach out to the knowledgeable Scoot Boots team for advice on hoof boots products and sizing.