The Equestrian Hub Mentorship is for talented & passionate equestrians, 18+ years old of any skill level, who need help to improve their skills to take them to the next level. Supporting equestrians on their journey and making a tangible difference in their everyday training, through extra coaching and access to an industry great to help them achieve a goal or move up a level, is something we believe strongly in.
We're are also excited to to have launched a Life after Racing mentorship, dedicated to helping riders who have given an off the track Thoroughbred or Standardbred a new home, a new life, and a new career.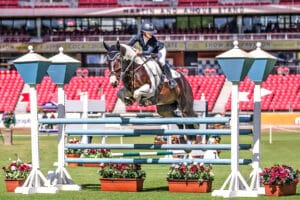 2022 Winner Kelly Bridgland and her horse Showtym Burrow competing at the 2021 Sydney Royal Easter Show in the Young Rider Grand Prix (photo by Australian Jumping).
We want to support equestrians and the industry and offer the Mentee coaching and tuition, products, mentoring and more. Our mentors are not only sporting greats through their own performances and achievements in a variety of disciplines, but role models with a heart for supporting and inspiring the next generation of riders to reach their fullest potential. Our fantastic Mentors for the program include Emma Mason, Heather Currie, Vicki Roycroft, David Shoobridge, Alanna Richards, Jamie Hocking, Jade Finlay, David Finch, Mick Taylor, Christine Armishaw, Warwick Schiller, Shane Davidson and Mattea Davidson.
Thank you to our sponsors for the help and donations towards Delivering Dreams to Australian riders, Kentucky Equine Research, McDowells Herbal, Caribu Horse Wear, Leader Equine and Pet Stock along with Trailrace Saddlery, David Shoobridge Pty Ltd, Warwick Schiller, Arrowfield, Ariat Australia, Performa Ride and Finch Farm.
To apply for the 2023 Equestrian Hub Mentor Program and Life After Racing mentorship CLICK HERE