Romeo F is excelling in his new off the track career. TARA MADGWICK recalls the big grey's past and spoke to Amanda Ross about his future.
Born beautiful and bred to win a Melbourne Cup, life has not turned out quite as expected for Romeo F, a dapple grey Thoroughbred gelding by champion sire Frankel, who turns heads wherever he goes.
Conceived in the UK, born in Australia, and in 2017 sold in New Zealand as a yearling for $475,000 to respected bloodstock agent Duncan Ramage of DGR Thoroughbreds, he was the subject of keen interest at the Karaka sales complex that year.
The then Switching to Win as a yearling in 2017 (Image courtesy Tara Madgwick).
A rare grey son of one of the world's best racehorses in Frankel, he is also a half-brother to Group 1 Royal Ascot Gold Cup winner Colour Vision and to the dam of this year's Group 1 Australasian Oaks winner Glint of Hope, a contender for the 2022 Melbourne Cup.
Duncan Ramage reflects on his purchase of the colt: "The late Trevor Stuckey and his partner Penny Yan came to me with the idea of buying a Melbourne Cup type horse for James Cummings to train and they were very keen on Frankel, so this grey colt fit the bill."
James Cummings was subsequently appointed head trainer for Godolphin, so the colt was sent to Peter and Paul Snowden and named Switching to Win in keeping with all the other horses raced by Trevor and Penny, which include champion miler Racing to Win, another charismatic grey that won over $3 million.
Switching to Win took a long time to mature, but his success as a racehorse was limited: "He was always very athletic and a great mover, but he lacked a change of gear … as Bart Cummings used to say about the slower horses, they can stay, but the trouble is they stay too long in the same spot," Duncan laughs.
Switching to Win won a maiden at Gosford over 1,900 metres, but progress from that point was not forthcoming and he was eventually on-sold in 2020 for $27,500 through Inglis Digital, joining the Victorian stable of Amy and Ash Yargi.
Retired earlier this year, Switching to Win has been given the opportunity to pursue a new career in the hands of professional equestrian Amanda Ross. A well-known Olympic eventer with years of experience in transitioning off the track Thoroughbreds into equestrian disciplines, Amanda is based at Mornington in Victoria. Given a new name for a new phase of his life, the ever-handsome Romeo F has settled in well to the training required to produce a show jumper.
Romeo F recently progressed from 75cm to 95cm without batting an eyelid (Image by Flick Johnston).
He made his debut at Boneo Park earlier this year, pleasing Amanda with his willingness and can-do attitude. "He's a very rewarding horse and very trainable. One thing I love is competing at the highest level, but I also enjoy training horses at the lowest level and taking them up step by step," she explains.
At age seven, Romeo is at the perfect time in his life to make his mark in the equestrian world with many Thoroughbreds still active into their late teens. "Their racing career is relatively short in terms of their life span, often coming to an end by age six, but they can easily go on for another 10 years after that," she adds.
Amanda and Romeo have developed a strong bond (Image by Katherine Jamison Photography).
An Ambassador for the VRC since Cup Week in 2020, Amanda's role includes the promotion of Thoroughbreds, an easy task given some of her most successful eventers have come off the track. "My 2000 Olympics horse was a Thoroughbred and 20 years later so was my almost Olympic horse for Tokyo. Their endurance and work ethic is something you just don't find in other breeds. My duties as ambassador are mixed and take me to the races and various charity functions, always with the goal of raising awareness for life after racing and what these wonderful horses can achieve outside of the racetrack."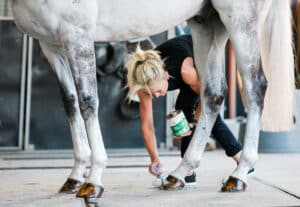 Life off the track is different, but Romeo has settled in well (Image by Katherine Jamison Photography).
Amanda is now moving away from her previous focus on eventing to concentrate more on show jumping and Romeo's future is likely to lie down that path. "He has two important key ingredients to making a successful show jumper in that he is brave and careful. He's just very light on his feet," Amanda says. "He'll do some off the track dressage, but mostly I see him as a show jumper working up to 95cm and 1m early next year as he gains in confidence and experience. When we bought him, we had him vetted and x-rayed and he is a very sound individual with great feet, so there is every reason to be confident he can enjoy a long and successful equestrian career."
While the Melbourne Cup dream was not for Romeo, his close relation Glint of Hope may well take her place in the race that stops the nation this year and Amanda Ross will be at Flemington to cheer her on. "Romeo is a very special horse and I would love to find another one just like him," she says.