Jessica Morton brings to us directly from Europe the top 12 stallions making waves right now from the KWPN stallion shows to the progeny set to be up and coming stars.
Warmblood breeding has increased significantly over the last two decades in Australia and New Zealand. Transportation advancements in semen importation and the better equine reproductive technologies have assisted this trend. Artificial insemination (AI) allows sporthorse breeders all over the world to benefit from the best stallions in Europe. Here are 12 stallions with progeny that are breaking price records, winning competitions and taking out breed championships around the old continent.
1. Glocks London (breeding name Carembar de Muze) – Belgian Warmblood (Nabab de Rêve x Chin Chin)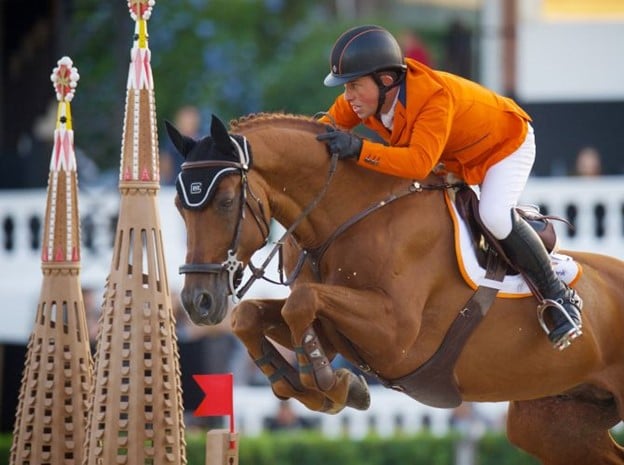 This powerful chestnut stallion needs no introduction. He has proven his ability in both sport and breeding in the past decade. Under the Dutch rider Gerco Schröder he reached the highest level of show jumping and won two silver medals for the Dutch team at the 2012 Olympic Games in London (GBR), along with a gold medal for the Dutch team at the World Equestrian Games in Caen (FRA). Foaled in 2002 and originally named Carembar de Muze. His remarkable pedigree combines four international show jumping stallions. To date, he has over 200 registered descendants, including the KWPN-approved sons, I Am London Apple, London Z, Come to London Z and Z7 Ipswich (formerly van de Wolfsakker). He retired to stud in 2019 in perfect health and his descendants are highly sought after.
2. FS Bloomberg | Hanoverian (by Bon Coeur x Don Index) 
German bred FS Bloomberg was rated premium stallion at his licensing in Zweibrücken in 2019. Soon after he became the star of the 2020 KWPN Stallion Performance test when he scored the highest tally of points of any stallion tested with an 88.5 total. He earned an 8 for walk, 9 for trot, 8 for canter, 9 for suppleness, 9 for self-carriage, 9.5 for rideability and 9 for potential. His sire Bon Coeur produced 40 licensed sons and over 25 state and premium mares as well as success in competition on the international stage, whilst on his dams' side there are a glittering list of stallions such as Don Index, Rohdiamant and De Niro. All of whom have made a name for themselves both through their own performance and that of their offspring. This is a dressage stallion to watch.
3. Desperado N.O.P | KWPN (Vivaldi x Havidoff)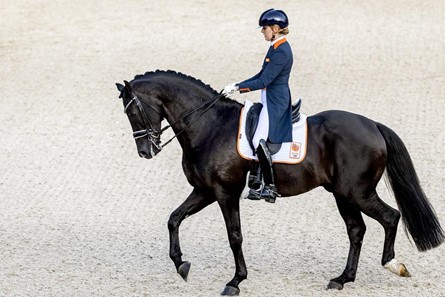 13-year-old Desperado received a top score of 89.5 points in the 2011 KWPN Stallion testing. The committee praised Desperado for being an "honest and reliable stallion with a good work ethic." They liked the handsome black stallions' willingness to work and complimented him on a walk that is "clear and offer good ground cover," his trot is "uphill" with "expressive front leg usage". Desperado is currently placed 16th in the FEI world rankings after a magnificent 2019 which included a Team silver medal for the Netherlands with his owner/rider Emmelie Scholtens at the FEI European Championships. After impressing everyone in Lyon and Stockholm, Desperado won December's FEI Dressage World Cup™ qualifier in Mechelen, picking up an impressive 10 for his extended walk and a personal best of 85%. The Dutch Federation, in partnership with the Dutch Olympic Committee, subsidizes Desperado and any other N.O.P. owners to make sure these horses are not sold out of the country. We are holding our breath for Tokyo to see this pair in action again on the live screen.
4. Glamourdale | KWPN (Lord Leatherdale–Negro–Ahorn) 
Glamourdale was named Champion of the 2014 KWPN keuring and 2020 KWPN Horse of the Yea. He was placed second in his Stallion Performance Test, earning scores of 9 for his canter and balance and 8.5 for trot, elasticity, rideability, and talent as a dressage horse. With Charlotte Fry he won the 2018 World Young Horse Championships for 7-year-olds in Ermelo and in 2019 he wowed onlookers at international small tour level, recording wins at the CDIO Aachen. Last year he transitioned to national Grand Prix level.
5. Cornet Obolensky | Westphalian (Clinton x Heartbreaker) 
This powerful grey was sired by Clinton, one of the world's top jumpers. In his 30-day test Cornet Obolensky received a 9.24 score for jumping and a 10 for free jumping. Once paired with Marco Kutscher, his popularity exploded.  Together they took on the world and won again and again, taking out the Nations Cup in Barcelona and Rotterdam, individual gold at Wiesbaden CHIO's in Rome and Rotterdam and the World Cup in Zurich. They also competed together at the Hong Kong Olympics. Cornet Obolensky has produced over 3500 registered offspring up. Of those 3500 368 have competed in international jumping competitions. His most famous offspring to date is Clooney, who won the European champion in 2019 and took silver at the 2018 World Championship in Tyron.
6. Harley VDL | KWPN (Heartbreaker x Carthago Z)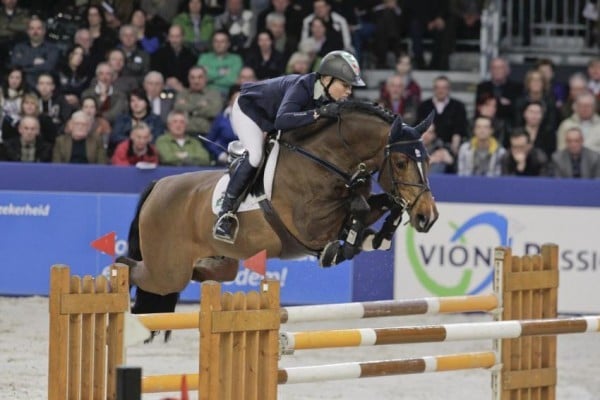 7 of Harley VDL's offspring sold for a total of €1,035,604 in 2020. This stallion has an extraordinary pedigree for jumping. Harley's sire line contains three international jumping stallions: Heartbreaker, Carthago and Caletto I while his dam Larthago won several 1.40m and 1.50m classes before her breeding career began. Harley VDL was successful at an international level with Jessica Kürten – with placings at the Grand Prix of Sainte Cecile and the Grand Prix of Neurenberg. He also won international classes in La Coruña, Aalst and Outdoor Gelderland.
7. Callaho Benicio |Hanoverian (Belissimo M x Velten Third)
This flashy liver chestnut was described by judge and commentator Christoph Hess as "a horse to fall in love with." After licensing, Benicio was taken to South Africa – however, only two years later, the high quality of his foals and his extraordinary potential for advanced level dressage convinced Callaho to return him to Germany to train with Anna-Sofie Fiebelkorn and to gain full breeding approval for the Hanoverian Studbook. This remarkable partnership elevated Benicio out of nowhere to win the 2011 German Bundeschampionate for the six-year-old dressage horses and this victory was followed by the Stallion Performance Test at Schliekau.  In his short breeding career in Germany, Benicio has already produced nine licensed sons (4 are Premium stallions) as well as dozens of State Premium mares.
8. Chacoon Blue | Mecklenburg (Chacco-Blue x Cindina)
Chacoon Blue is one of the most popular show-jumping stallions in Germany, and this is demonstrated by the many sales of his pregnancy at elite auctions during 2020.  Chacoon Blues sire Chacco-Blue, was immensely successful internationally at Grand Prix level with Alois Pollmann-Schweckhorst and Andreas Kreuzer. He passed away early due to Lyme disease, but not before siring over 30 licensed sons and 119 advanced level/S level show jumpers who have since won more than €747,000. His son, the handsome dappled grey Chacoon Blue won his 30-day-test with a magical jumping score of 9.40 and a maximum mark of 10.0 for free jumping. Built to perform, in 2015, he won the Dobrock Championship and picked up second place at the German Championships for seven-year-olds in Warendorf with Florian Meyer zu Hartum.
9. Conthargos | Oldenburg (Converter – Cajandra Z x Carthago)
The sire of Conthargos, Converter I, was Oldenburg Landeschampion and second-best show jumping stallion at the World Championships in Lanaken. His dams' sire Carthago competed in the Olympic Games in Atlanta 1996 and sired over 267 advanced level/S level show jumpers, that together have earned over 4 Million Euros so far. Conthargos is a stallion that has pretty much everything going for him – from incredible breeding and impressive athleticism to exceptional rideability. In 2008, he was superior champion at the Dobrock competition with a score of 9.5 and effortlessly qualified for the German national championship. His progeny are clearly marked by their sire: large-boned, muscled with an absolute desire to perform.
10. Danciero | Hanoverian (Dancier x Floriscount) 
Danciero is Hanoverian royalty. Grandson of De Niro and son of Grand Prix dressage stallion Dancier, Danciero was the undisputed Champion Stallion of the 2018 Westphalian Stallion Licensing. His scores included 10s for canter and rideability, a 9.5 for trot, and 9.0s for walk and conformation. He was the 2019 Danish Warmblood Premium Stallion, and he placed fourth in the 2019 Bundeschampionship for 3-year-old stallions under Eva Möller (8.50 9 8.50 9 8.50 — 8.70) and in the 2020 Bundeschampionat Qualifer he took second and fourth place in the final.
11. Dominator Z | Zangersheide (Diamant de Semilly x Cassini)
Even as a young 5-year-old, Dominator Z was already one of the most sought-after stallions in the world. This outstanding horse won very his first international Grand Prix at only nine, came in second at the 5*GP of Paris and took silver at the World Cup of Madrid. Combining the best of French and Holstein breeding, his earliest offspring have been tremendous jumpers. He produces leggy foals with the same scopey jumping technique that he is so famous for himself.
12. Secret |Baden Würtemberger (Sezuan x St. Moritz)
Secret is one of Germany's most talked about young stallions. Sired by Sezuan (Zack / Don Schufro) the horse that won the World Young Horse title three years in a row, his dam is by St Moritz who is by Sandro Hit. This stallion was a hyped social media sensation – after a ten-second video was leaked to Facebook, 600 frantic breeders instantly selected him for their mare's. He was bred by Hubert Vogler and licensed in a hushed up private home licensing before starting his training with Swedish rider Jessica Lynn Thomas. In 2020 he took out the Six Year Bundeschampionate old title at Warendorf with an overall score of 9. He is a stallion to watch.
About Jessica
Jessica Morton is a freelance journalist living in Florence, Italy specializing in digital storytelling and equestrian news.